Covid-19 Safe Practices & Policies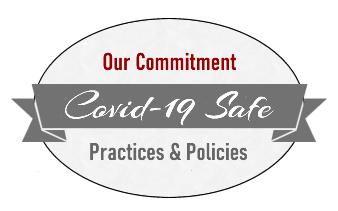 Dear Valued Guest:
Welcome to the North Bridge Inn! We appreciate that you have chosen our bed and breakfast for your Concord getaway.
Below you will find a list of practices that we are engaged in to best protect you, our guest, as well as our employees during this time of Covid-19.
We are also including a list of policies that we request of each of our guests to ensure the health and safety of all who frequent our inn.
Thank you for your understanding and participation as we work together to stay health and enjoy life during a particularly difficult time in our history.
~ All of us at the North Bridge Inn
PROPERTY PRACTICES
Each of our employees have received training in extensive cleaning procedures, to include the frequent disinfecting of all common touch surfaces.
Each of our employees wears a mask and, where needed, gloves.
At all times, we practice social distancing, maintaining 6-feet apart from all others.
During check in you will receive a sanitized room key and any special instructions to maximize your comfort and safety during your stay with us.
GUEST ROOM PRACTICES
Each of our rooms is thoroughly cleaned and sanitized prior to guest arrival.
We will run an air purifier with HEPA filter and UV light in each room between guests stays.
Once your room is cleaned and prepared for you, no one enters the room prior to your arrival.
Arriving at your room, you will find a set of masks, antibacterial hand sanitizer and disposable gloves.
We do not provide cleaning during your stay. We welcome you to request any amenities and supplies that need to be replenished during your stay.
FOOD SERVICES
At this time, we are serving cooked-to-order breakfast served in to-go containers to take to your room.
Each room is equipped with a coffee maker, coffee packets, teas and creamers and sugar. As well as dishes, glassware and flatware. Please let us know if there is anything else you need.
GUEST POLICIES
We request that guests wear a mask when in close quarters with other guests and our staff.
If you are feeling unwell, we request that you notify us by phone so that we can reschedule your stay with us.
If while you are at the inn, you become unwell, we request that you notify us and make arrangements to return home.
We ask all guests to practice social distancing during check in, while enjoying our property, at breakfast and when interacting with other guests as well as our staff.
"We absolutely loved our stay. The neighborhood and town are beautiful and the inn was a perfect combination of warm, welcoming, historic, and contemporary – and very clean and well-maintained. I have zero complaints about our stay and would absolutely come back – and stay longer." – E.P. Washington DC