Activities: Concord, Massachusetts
Start your day at North Bridge Inn with a full hot breakfast. Then venture out into our fascinating town of Concord MA. Below is a list of popular places to see. Take a look at Concord's calendar of events as well. Let us know if we can do anything to make your stay relaxing and fun!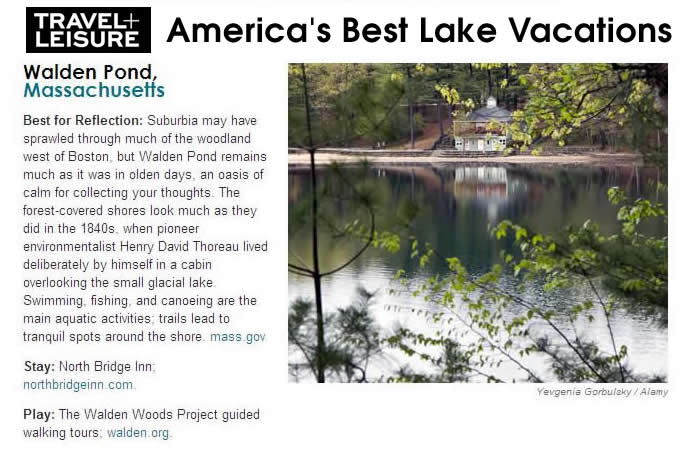 Patriot's Day Celebration & Parade – Commemorating the historic battles that occurred on April 19, 1775. Weekend long events including battle re-enactments in both Lexington and Concord.
Concord Museum – Featuring period rooms and galleries depicting town life and growth for 1635-1890. The collection includes artifacts associated with the beginning of the Revolutionary War, objects used by Thoreau at Walden Pond and the contents of Emerson's study, as he left it in 1882.
Ralph Waldo Emerson House – The home of the American writer from 1835 to 1882, containing original furnishings and personal memorabilia.
The Old Manse – This historic museum offers guided tours discussing the history of the Emerson-Ripley family of ministers who lived there from 1770 to early this century, Ralph Waldo Emerson, who lived there in 1834 and Nathaniel Hawthorne, who lived there 1842-1845.
Orchard House – The Alcott family home, where Louisa May Alcott wrote Little Women in 1868. Tours, children's workshops, a lecture series and living history programs are offered.
Old North Bridge and Visitor Center – Part of the Minute Man National Historical Park, the area encompasses a portion of the April 19th Battlefield, including the North Bridge. The visitor center offers a video presentation, displays and book shop.
Minute Man Visitor Center – Minute Man National Historical Park – A great place to begin your visit to the park. Orientation and ranger programs, information, bookstore. Newly renovated with all new exhibits.
Battle Road Trail – A 5.5 mile interpretive trail for walking, bicycle or wheelchair follows remnants of the historic road and visits historic houses and natural areas in the Minute Man National Historical Park.
Sleepy Hollow Cemetery – Author's Ridge Graves of Thoreau, Hawthorne, the Alcotts, Emerson and Daniel Chester French. See website here.
Walden Pond State Reservation – Swimming, boating, fishing and hiking trails. Site of Henry David Thoreau's cabin. Pets not allowed.
Great Meadows National Wildlife Refuge – Bird watching, walking trails, pets on leash welcome.
"Great for large families. We booked 5 rooms at the North Bridge Inn to use for family attending our son's wedding in Concord and had a wonderful stay. Four of the rooms were on the same floor and it was very easy for us to see each other. The rooms are spacious and easily accommodated everyone, they also each had a small kitchen. The breakfasts are amazing, pancakes one day, and eggs the next. Plus there was always fresh fruit, muffins, and lots of coffee. We will plan to stay again soon." – Roby, Newport Beach CA